There are few things that I love more than spending time in the kitchen with my family. In fact, we have a tradition of declaring the occasional Saturday night as a "Family Feast Night". I can't remember one Family Feast Night that didn't involve laughter, a great meal, and a memory that will remain fresh in my mind for years to come.
On those Saturdays, we gather in the kitchen mid afternoon, fire up a little background music from our turntable, and prepare dinner together. We tend to select recipes that require a big time commitment and the work of many hands. There are two reasons for this. The first is that these recipes don't appear on our menu board very often due to the time constraints of everyday life. The second is much simpler: we enjoy our time in the kitchen together so much that we want it to last just a little longer.
The menu item that garners the most requests and creates the most excitement on Family Feast Night is sweet potato gnocchi. Family dinner is more fun when you can get your hands dirty rolling ropes of gnocchi dough on the kitchen table before cutting each piece yourself. My children take great pride in turning out baking sheets full of the little orange pillows before I roll them down the tines of
a fork. My husband and I take great pride in visualizing them teaching their children to make gnocchi years from now.
We grow our own sweet potatoes here at 1840 Farm. While we enjoy them in a variety of recipes, this is our clear favorite. When our homegrown sweet potatoes are fully cured and ready to be enjoyed, this is predictably the first sweet potato recipe we make. In fact, our annual harvest is judged by how many batches of sweet potato gnocchi it will yield.
In addition to being a family favorite, this recipe also happens to be delicious. The delicate gnocchi offer a perfect counterpoint to the earthy mushrooms and spinach. The end result is a light yet satisfying dish that never disappoints in my house. I'm willing to bet that it won't disappoint in yours either.
Sweet Potato Gnocchi with Mushrooms and Spinach
2016-03-24 11:02:50
Serves 6
This recipe comes together quite easily, but does require a bit of prep time. At our house, we make a double recipe and save half of the gnocchi for a second evening's dinner. These frozen, unboiled gnocchi can be individually frozen and then stored in a freezer bag for later use. When the time comes, frozen gnocchi can be dropped directly into a pot of boiling salted water. They will take a few extra minutes to float to the surface and cook completely, but the taste will not be affected by their stay in the freezer.
Ingredients
2 pounds raw sweet potatoes
15 ounces ricotta cheese
2 Tablespoons brown sugar
1 ½ teaspoons sea salt
2 cups All-purpose flour
2 Tablespoons extra virgin olive oil
1 pound mushrooms, sliced
1 cup vegetable stock
2 Tablespoons butter
6 ounces baby spinach leaves, washed
Parmesan cheese to garnish
Instructions
Wash the sweet potatoes and puncture all over with a fork. Place half of the potatoes on a microwave safe plate and microwave on high in 4 minute intervals until soft. When fully cooked, the sweet potatoes should have the texture and appearance of a well baked sweet potato. Remove from the plate and set aside to cool. Repeat with the remaining sweet potatoes.
Once the cooked sweet potatoes are cool enough to handle, split each potato in half lengthwise. Using a spoon, scrape the flesh from the skin and place into a potato ricer. Rice the sweet potato into a large bowl. Repeat until all the sweet potatoes have been riced into the bowl. If you do not have access to a potato ricer, the cooked sweet potato flesh can be placed in the large bowl and mashed using a hand potato masher.
Add ricotta cheese, brown sugar, and salt to the sweet potatoes and stir until well combined. Add 1 ¼ cups of the flour to the sweet potato mixture and stir until fully incorporated. Add the remaining flour ¼ cup at a time until the dough forms a soft ball. The goal is to create a soft dough that comes together without being too dry.
Turn dough out of the bowl onto a well-floured surface. Divide the dough into 8 equally sized sections. Remove one of the sweet potato dough sections and roll on a floured surface to form a rope with a 1 inch diameter. Using a knife, cut the rope into one inch long pieces.
Traditionally, gnocchi are individually rolled on a gnocchi paddle or over a fork in order to create ridges that trap the sauce on each piece. I enjoy the process of pushing each piece of gnocchi across the tines of a fork with my thumb.
However, if you find this intimidating or simply don't have the time, don't despair. This step can be skipped and the gnocchi can simply be prepared once they are cut. While the appearance will differ slightly, the flavor will still be delicious.
Meanwhile, place a large stockpot filled with water over high heat. Once the water comes to a simmer, add 1 Tablespoon of salt and allow the water to come to a full rolling boil. Reduce the heat slightly and allow the water to continue boiling as the sauce is prepared.
Heat the oil in a large saucepan over medium high heat. Add the mushrooms and sauté without stirring until they have released their liquid and most of it has evaporated, approximately 7 minutes. Add the broth and butter and stir to incorporate. Remove the pan from heat and cover to keep warm.
Boil the gnocchi in batches small enough to allow them to move freely in the salted boiling water without being crowded. The gnocchi will begin to float on the surface of the water as they cook. Continue to cook for approximately one minute before removing with a slotted spoon to a lightly oiled baking sheet to allow the gnocchi to dry slightly. Continue until all of the gnocchi have been cooked.
Return the saucepan with the mushrooms to a burner set over medium heat. Add the spinach and stir until the spinach wilts and the sauce comes up to temperature. Taste for seasoning, adding salt and pepper to taste. Add the cooked gnocchi to the pan and gently stir to coat. Serve immediately, garnishing with grated Parmesan.
1840 Farm http://1840farm.com/
---
This recipe was featured in our newsletter. To make sure that you don't miss any of our original content or favorite recipes, DIY projects, and homesteading advice from around the web, subscribe to The 1840 Farm Community Newsletter. Visit our subscription form to become the newest member of The 1840 Farm Community.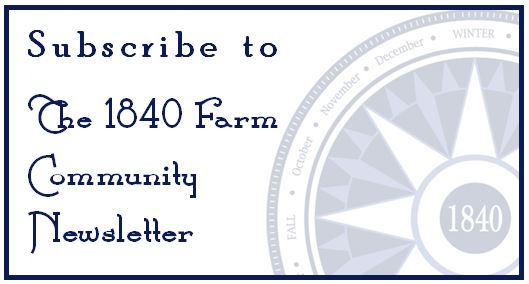 Our newsletter isn't the only way to follow what's happening here at 1840 Farm.
You're always welcome at 1840 Farm and at The 1840 Farm Mercantile Shop on Etsy.
You can also find 1840 Farm throughout the social media universe on
Facebook, Twitter, Pinterest, Instagram, Flickr, and Bloglovin'.
We even created a new 1840 Farm Community Newsletter Pinterest board to catalog
our newsletter content so that you could easily pin your favorites to your own boards.
Come add your voice to our conversation!
We'll hope to see you there!
---
Comments
comments