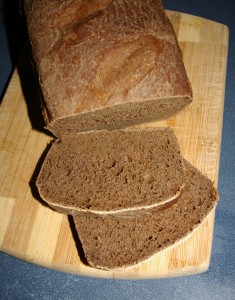 I love to bake fresh bread for my family.  We eat around food allergies and Type One Diabetes here at 1840 Farm, so bread from the local bakery simply isn't an option.  Instead, we bake our own and control the ingredients and carbohydrates so that the whole family can safely enjoy great tasting fresh bread.
I have even incorporated bread baking into our homeschooling activities.  We have studied yeast and learned about gluten.  We've stood in our farmhouse kitchen making loaves of bread together.  In fact, we'll be back in the kitchen this afternoon making tomorrow morning's breakfast loaf.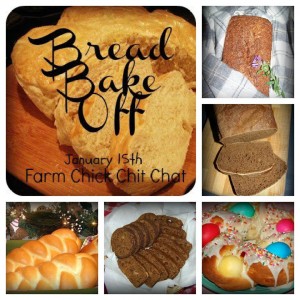 I want to ensure that both of my children learn to make their own bread.  It's a family tradition that dates back to my Great grandmother who passed it on to her own daughter.  My Grandmother loved to make fresh bread.  In her later years, she made loaves of bread to share with us every Friday.  We would come home from work and school to discover which recipe she had made and then enjoy the bread all weekend long.
I'm always looking for a few new bread recipes to add to our collection, so I am eagerly anticipating the Farm Chick Chit Chat Bread Bake Off on Tuesday, January 15th.  I'll sit down at my laptop that morning with my cup of coffee and look through the entire collection before deciding which recipe to try first.
Signup for the Farm Chick Chit Chat Newsletter by visiting our Facebook page and clicking on the "Newsletter Signup" link so that you don't miss out on the recipes from the Bread Bake Off.  Join in our conversation on Facebook with me and the other contributors and homesteaders.  I'll hope to see you there!
Comments
comments