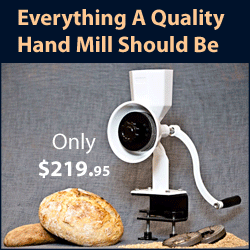 Have you ever considered milling your own flour?  I certainly have due to my love of baking from scratch and also to manage my son's food allergies.  In fact, I was discussing using a home mill with another contributor to The Daily Meal earlier this week.
Now we can all learn more about an amazing product and the newest sponsor of 1840 Farm – Kitchen Kneads and The WonderMill. Kitchen Kneads is a family owned business that supplies families around the country with the products and supplies necessary to be more successful with their baking and cooking.
Kitchen Kneads offers an incredible variety of kitchen tools from The WonderMill grain mill to dehydrators, vacuum sealers, sprouters, and everything in between.  In a matter of minutes, I had found tools that I could use in our farmhouse kitchen and on the farm to help create healthy supplements for our animals and preserve our homegrown produce from the garden.
If you love to bake and cook as much as I do, click on the link to their catalog and enjoy browsing their catalog.  You can also follow Kitchen Kneads and The WonderMill on Facebook to stay up to date with their latest products and find some delicious looking recipes.  I'm glad that it's not too late to add a few of their products to my Christmas list!
Comments
comments