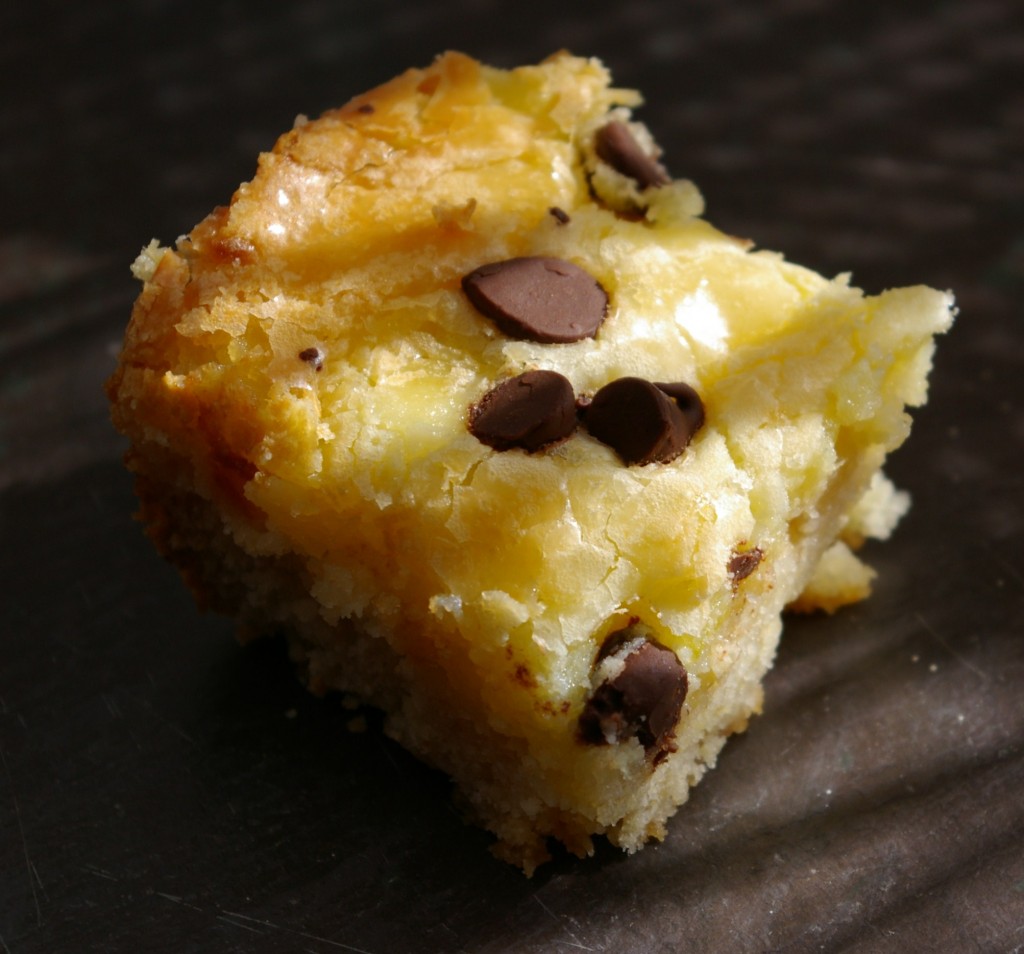 Last month, I shared  my recipe for blueberry gooey butter cake.  We were right in the heart of blueberry season here at 1840 Farm.  Adding fresh berries to our family favorite gooey butter cake was a natural way to celebrate our best blueberry season ever.
For me, there are certain ingredients that never go out of season.   Chocolate always seems to be near the top of that list.  We all love chocolate and it finds its way into many of our favorite baked goods.
Chocolate chips are a lovely addition to our favorite gooey butter cake recipe no matter the season.  They perfectly balance the sweet, creamy topping both in appearance and taste.  One bite and you'll agree:  chocolate is always in season!
Chocolate Chip Gooey Butter Cake
serves 12-16
2 1/2 cups (300 grams) All-purpose flour
1 1/2 cups (288 grams) granulated sugar
2 teaspoons baking powder
1/2 teaspoon sea salt
4 ounces butter, melted
1 large egg
2 ounces milk
8 ounces cream cheese, softened
4 ounces butter, melted
2 large eggs
1 Tablespoon vanilla extract
3 cups (360 grams) powdered sugar
1/2 cup (60 grams) chocolate chips
Preheat oven to 350 degrees Fahrenheit.
Make the crust by combining flour, sugar, baking powder and salt in a large bowl.  Add melted butter and stir to combine.  Add the egg and milk and stir to fully incorporate.  The mixture should be crumbly and evenly moistened.
Evenly press the crust mixture into an ungreased 13 x 9 inch pan.  Set aside while the topping is prepared.
To prepare the topping, combine softened cream cheese and melted butter in a large bowl and stir until smooth.  Add the eggs and vanilla and whisk until smooth.  Add the powdered sugar and stir until fully incorporated.
Pour topping over the prepared crust and spread to completely cover the crust.  Sprinkle the chocolate chips over the top of the filling.  Bake in the preheated oven for 35-45 minutes.
The cake is done when the topping develops a light brown color.  The topping should not be completely set in the middle as it will firm up as the cake cools.  Remove the cake from the oven and cool at least 30 minutes before slicing.  If desired, sprinkle lightly with powdered sugar before serving.
To download a printable copy of this recipe, click the link below to open the PDF file.
1840 Farm Chocolate Chip Gooey Butter Cake Recipe
Pin It

Comments
comments