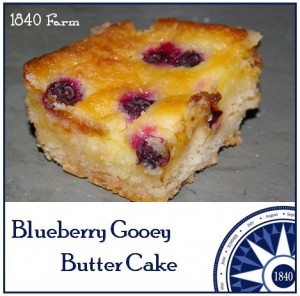 It's blueberry season at 1840 Farm.  We're enjoying our best year for harvesting blueberries since moving to the farm in 2005.  We've already picked an amazing 15 pounds of fresh berries.
With that many berries, I find myself searching for new recipes that call for blueberries.  I had never made gooey butter cake with blueberries, but I was confident that they would pair nicely with the delicious, rich topping.  I was also certain that my son, who adores gooey butter cake, would love the addition of blueberries.
To say that my son likes gooey butter cake is a massive understatement.  In fact, when he collects the day's eggs from our chicken coop, he proudly announces when we have at least three eggs.  I don't have to ask how many eggs are in the basket when I hear, "We have enough for a gooey butter cake, Mom!"
I am happy to say that my son did love this version of his beloved gooey butter cake.  In fact, we all did.  The tart blueberries were a lovely accent to the smooth, creamy topping and buttery crust.
I am sorry to say that we finished the last of the blueberry gooey butter cake last night.  The pan is empty.  Luckily, I have two pounds of freshly picked blueberries resting on the farmhouse kitchen counter.  Now I'll have to wait and see how many eggs my son collects from the coop.  I know that he'll let me know if we have enough to make another gooey butter cake!
Blueberry Gooey Butter Cake
serves 12
2 1/2 cups (300 grams) All-purpose flour
1 1/2 cups (288 grams) granulated sugar
2 teaspoons baking powder
1/2 teaspoon sea salt
4 ounces butter, melted
1 large egg
2 ounces milk
8 ounces cream cheese, softened
4 ounces butter, melted
2 large eggs
1 Tablespoon vanilla extract
2 Tablespoons lemon juice
3 cups (360 grams) powdered sugar
1/2 cup blueberries
Preheat oven to 350 degrees Fahrenheit.
Make the crust by combining flour, sugar, baking powder and salt in a large bowl.  Add melted butter and stir to combine.  Add the egg and milk and stir to fully incorporate.  The mixture should be crumbly and evenly moistened.
Evenly press the crust mixture into an ungreased 13 x 9 inch pan.  Set aside while the topping is prepared.
To prepare the topping, combine softened cream cheese and melted butter in a large bowl and stir until smooth.  Add the eggs, vanilla, and lemon juice and whisk until smooth.  Add the powdered sugar and stir until fully incorporated.
Pour topping over the prepared crust and spread to completely cover the crust.  Sprinkle the blueberries over the top of the filling.  Bake in the preheated oven for 35-45 minutes
The cake is done when the topping develops a light brown color.  The topping should not be completely set in the middle as it will firm up as the cake cools.  Remove the cake from the oven and cool at least 30 minutes before slicing.  If desired, sprinkle lightly with powdered sugar before serving.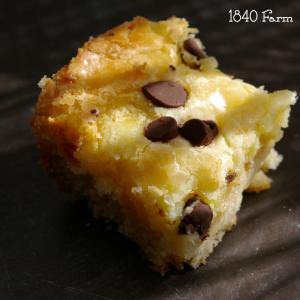 You won't want to miss our recipe for Chocolate Chip Gooey Butter Cake.  It's just as delicious!
---
To make sure that you don't miss any of our original content or favorite recipes, DIY projects, and homesteading advice from around the web, subscribe to The 1840 Farm Community Newsletter. Visit our subscription form to become the newest member of The 1840 Farm Community.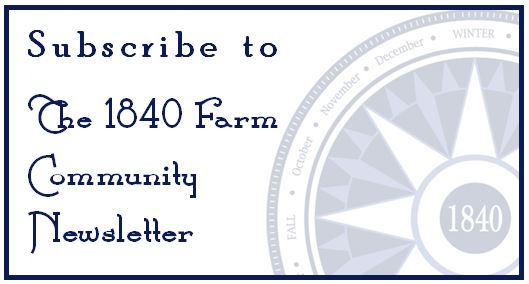 Our newsletter isn't the only way to follow what's happening here at 1840 Farm.
You're always welcome at 1840 Farm and at The 1840 Farm Mercantile Shop on Etsy.
You can also find 1840 Farm throughout the social media universe on
Facebook, Twitter, Pinterest, Instagram, Flickr, and Bloglovin'.
We even created a new 1840 Farm Community Newsletter Pinterest board to catalog
our newsletter content so that you could easily pin your favorites to your own boards.
Come add your voice to our conversation!
We'll hope to see you there!
---
Comments
comments