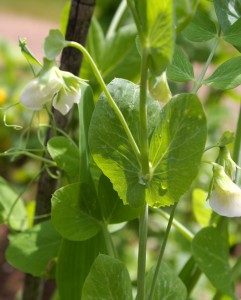 In the summer, the gardens at 1840 Farm dictate what is served for dinner.  If the Purple Top Turnips are ready to be harvested, then dinner is designed around them.  During heirloom tomato season, no one in the family asks "What's for dinner?"  There's no point.  The answer is always "tomatoes".
Each day, I take a stroll through the garden and survey what is ready to harvest.  Over the weekend, it was a beautiful mix of bountiful bush beans, Prince Albert peas from the Monticello collection, and a handful of fresh fava bean pods.
I follow Julia Child's method for preparing the beans.  It is a simple preparation and doesn't require any special equipment.  I blanch the beans and peas before sauteing them in a little butter.  The end result is fresh and delicious.
To prepare the beans and peas, bring a large pot of water to a roiling boll over high heat.  Once the water is boiling, add a generous Tablespoon or two of salt.  Wash the beans and cut them into 2 inch lengths.  Remove the peas and favas from their pods and add them to the pot of boiling water with the beans.
Immediately cover the pot to allow the water to rapidly return to boiling.  Once the water has come back to a boil, remove the lid and blanch the vegetables for 2-4 minutes.  Check often for doneness, removing the vegetables from the boiling water while they are still crisp.
Remove the beans and peas using a slotted spoon and place them immediately into a bowl of ice water.  Shocking the peas and beans in ice water will stop the cooking process and help to set the brilliant bright green color.  At this point, the completely cooled vegetables can be drained and stored in the refrigerator until ready to use.
When you are ready to finish the beans and peas, warm a saute pan over medium heat and add a pat of butter.  Using your thumb and index finger, slip the outer skin from the fava bean by pressing lightly on the bean.  The bright green fava will emerge from its papery skin rather easily.  Add the favas into the pan with the rest of the beans and peas and stir to combine.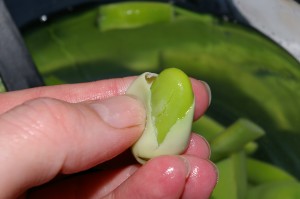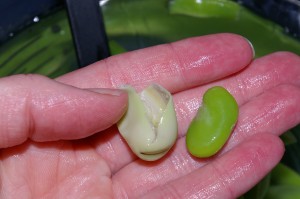 Saute the beans and peas for a few minutes, seasoning to taste with sea salt and pepper.  As soon as the vegetables are warmed through, serve them alongside your farm fresh dinner.  You'll have a side dish that is simple, beautiful, and delicious.  One taste and you'll understand why Thomas Jefferson's favorite vegetable was the humble garden pea.
This post has been linked to:
Comments
comments