I love when ordinary ingredients can be transformed into an extraordinary dish. I find it even more impressive when it can be accomplished without going to extensive effort or employing specialized kitchen tools. This is just that sort of recipe.
By themselves, the ingredients may appear pedestrian. Bananas are commonplace and blueberries are far from exotic. Even the simple combination of the two seems, well, simple. But you'll have to trust me when I tell you that combining them in this recipe, in this fashion yields absolutely delicious results.
This recipe does not use specialty kitchen equipment, but does employ an out of the ordinary technique. You must grate the bananas.
Yes, I know that it is much more common to simply smash the ripe bananas with a fork, but believe me when I tell you that grating them is better. Once you try grated banana in baked goods, you'll wonder where it has been all your life.  If you don't trust me, you can certainly trust the culinary legend James Beard.
I don't honestly remember where I happened upon a James Beard recipe for banana bread.  It was more than a decade ago and while the bread was good, the banana flavor and texture was otherworldly. In its instructions, James Beard recommended grating the banana.  Ten years later, the genius of the grated banana stayed with me. They were so well incorporated within the bread that it was as if they had melted into the batter.
Not to belabor the point, but most banana breads I have eaten contain pieces of banana that refuse to mix into the batter. Instead, they remain unchanged during the baking process and the resulting bread always left me wanting a more intense banana flavor.
So when I found myself standing in our farmhouse kitchen contemplating how best to utilize a pair of overripe bananas, I knew just what to do. Out came my box grater and within minutes the oven was preheating and I was moving on to the next challenge.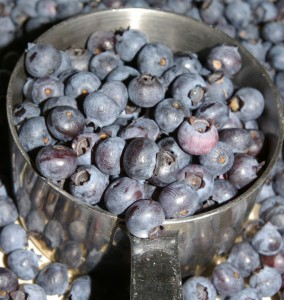 What else could I do to enhance the flavor of banana bread? What if I added blueberries to the batter?  It seemed logical.  I always have blueberries on hand.  In the summer, we celebrate the arrival of August by picking blueberries by the pint full.
This year is no exception.  In fact, blueberry season has come early.  We've been happily picking berries as fast as we can.  A lot of them are eaten straight out of the berry baskets, but I still have plenty for baking and canning.  I'm always looking for a new way to incorporate them into our favorite recipes.
I slid the cake into the oven, hoping that the two flavors would be the perfect marriage of
the banana's sweetness and the brightness of the fresh blueberries.  As the cake was baking, the whole farmhouse was perfumed with the lovely aroma of warm bananas.  It smelled so delicious that it seemed impossible to wait until it was cool enough to have a taste.
It was worth the wait.  The combination of the banana infused cake and fresh blueberries was delicious.  It was the perfect way to celebrate the arrival of blueberry season at 1840 Farm.
Banana Blueberry Cake
serves 10 – 12
I like to use my silicone bundt pan when baking this recipe.  I find that it helps the cake to remain moist as it bakes and cools.  A metal bundt pan or a standard cake pan could also be used.  If using a different pan, simply adjust the cooking time as needed, removing the cake from the oven as soon as a toothpick inserted in the middle comes out cleanly.
3 ounces butter, melted
2 medium bananas (approximately 6 ounces), grated
1/2 cup (96 grams) sugar
1/2 cup (96 grams) brown sugar
2 Tablespoons vanilla extract
1 large egg
1 generous cup (5 ounces) fresh blueberries
2 ounces whole milk
1 Tablespoon apple cider vinegar
2 cups (120 grams) All-purpose flour
1 teaspoon baking soda
1/2 teaspoon sea salt
Preheat the oven to 350 degrees Fahrenheit and prepare a bundt pan by spraying lightly with pan spray or brushing with melted butter.  Place the bundt pan on a baking sheet and set aside as you prepare the batter.
In a large mixing bowl, combine the melted butter, grated bananas, sugar, brown sugar, vanilla, egg, and blueberries, stirring until combined.  Add the milk and vinegar and mix until smooth.  Add the flour, baking soda, and salt and stir just until combined.
Transfer the batter to the prepared bundt pan.  Place the cake in the middle of the oven and bake 50 to 60 minutes, adjusting baking time as needed if not using a bundt pan.  The cake is done when it has developed a light brown color and a toothpick inserted into the middle of the cake comes out clean.
Allow the cake to cool at least 10 minutes in the pan before inverting on a wire rack to cool completely.  Serve warm or at room temperature.
To view a printable copy of this recipe, click the link below to open the PDF file.
1840 Farm Banana Blueberry Cake
This post was linked to:
---
To make sure that you don't miss any of our original content or favorite recipes, DIY projects, and homesteading advice from around the web, subscribe to The 1840 Farm Community Newsletter. Visit our subscription form. In a few seconds, you'll be the newest member of The 1840 Farm Community.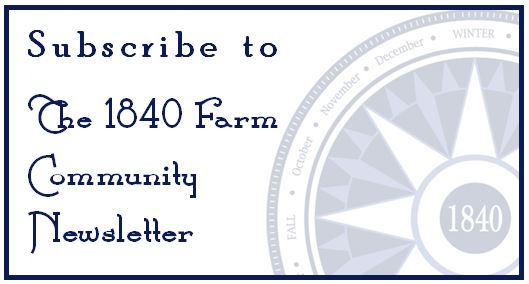 Our newsletter isn't the only way to follow what's happening here at 1840 Farm.
You're always welcome at 1840 Farm and at The 1840 Farm Mercantile Shop on Etsy.
You can also find 1840 Farm throughout the social media universe on
Facebook, Twitter, Pinterest, Flickr, and Bloglovin'.
We even created a new 1840 Farm Community Newsletter Pinterest board to catalog
our newsletter content so that you could easily pin your favorites to your own boards.
Come add your voice to our conversation!
We'll hope to see you there!
Comments
comments