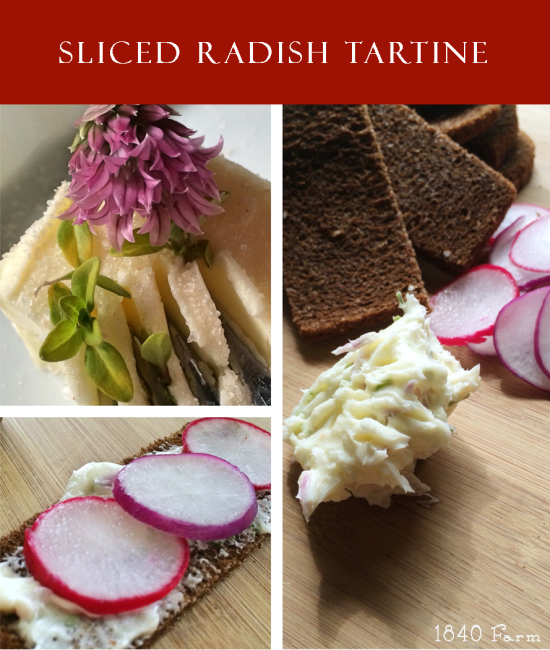 It's been raining for days on end here at 1840 Farm. I know that we desperately needed the rain. I know that it is technically spring or as we like to call it in New England: mud season. None of that matters. I still don't like it. I want to be outside, planting in the garden instead of inside staring longingly out the window at the garden.
After coming to the realization that I couldn't do anything about the rain, I decided to do the next best thing. I went to the refrigerator to grab the ingredients to make an afternoon snack. I hoped that the act of cooking would distract me from the raindrops falling against the kitchen window. It only took a few moments for me to realize that I had the components to make a family favorite: sliced radish tartine.
Radishes are one of the first crops to be harvested here at 1840 Farm. We love to enjoy a freshly made tartine to celebrate the beginning of our garden harvest. The crisp radish pairs deliciously with toasted pumpernickel bread and velvety butter. After a long day working in the garden, this tartine made with freshly harvested radishes is a delicious reward.
As I bit into the tartine, my frustration with Mother Nature slipped away. With each bite, I became more convinced that we did need the rain. I reasoned that it would help the French Breakfast radishes grow out in our garden. Harvesting those fresh radishes meant more radish tartine enjoyed with my family. How could I be upset about that?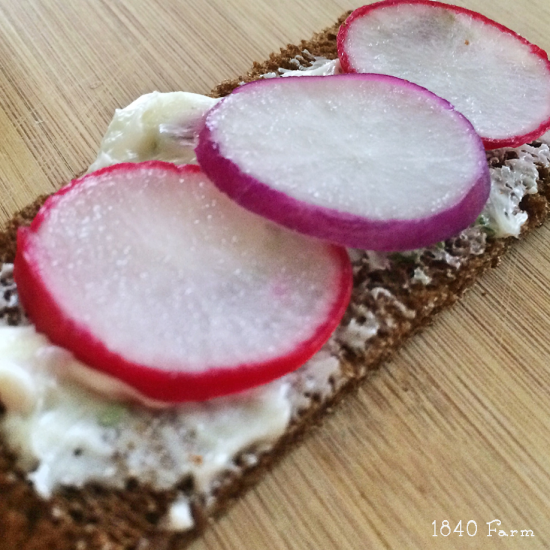 Sliced Radish Tartine
2016-06-20 08:58:43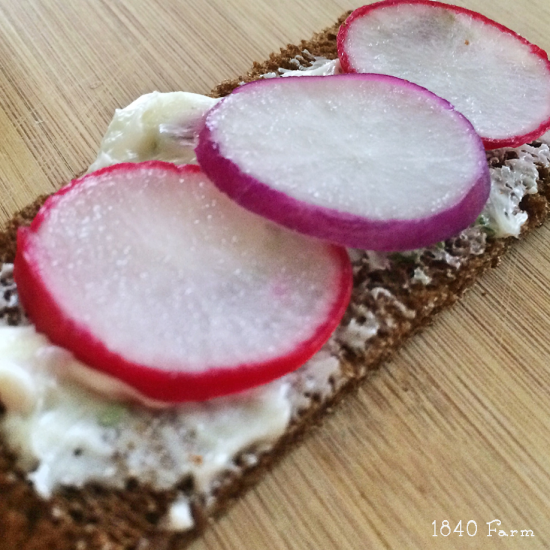 Ingredients
4 slices Pumpernickel or dark rye bread
2 Tablespoons butter
sea salt
freshly ground black pepper
fresh thyme
fresh chive blossoms
4 radishes
Instructions
Lightly toast the bread and set aside to cool to room temperature.
Wash the radishes and remove the root end using a sharp knife. Using a mandoline set to 1/8" or a sharp paring knife, slice the radishes into paper-thin slices. If using a mandoline, use the finger guard when slicing to prevent the radish from rolling into the cutting blade or injuring your fingers.
Soften the butter by smashing with the back of a fork. Remove the thyme leaves from the stem and sprinkle over the butter. Pull the chive blossom apart into individual petals and add to the butter. Season lightly with salt and pepper. Mix the herbs and seasonings into the butter using the fork until it is well incorporated.
Using a serrated knife, cut each slice of toasted bread into snack sized pieces. Place the bread on a large platter or board for serving along with the sliced radishes and herb butter. Serve and enjoy!
Notes
Visit www.1840farm.com to enjoy all of our recipes from the Farmhouse Kitchen.
1840 Farm http://1840farm.com/
---
This post was featured in our newsletter. To make sure that you don't miss any of our original content or favorite recipes, DIY projects, and homesteading advice from around the web, subscribe to The 1840 Farm Community Newsletter. Visit our subscription form to become the newest member of The 1840 Farm Community.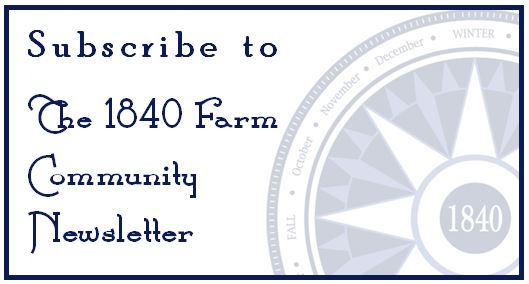 Our newsletter isn't the only way to follow what's happening here at 1840 Farm.
You're always welcome at 1840 Farm and at The 1840 Farm Mercantile Shop on Etsy.
You can also find 1840 Farm throughout the social media universe on
Facebook, Twitter, Pinterest, Instagram, Flickr, and Bloglovin'.
We even created a new 1840 Farm Community Newsletter Pinterest board to catalog
our newsletter content so that you could easily pin your favorites to your own boards.
Come add your voice to our conversation!
We'll hope to see you there!
---
Comments
comments