I should be tired of cookies. Tired of baking them, tired of eating them. It hasn't happened in spite of the fact that December has been chock full of them here at 1840 Farm. I don't think that there has been a day during this entire month when there wasn't a freshly baked cookie available for duty at bedtime snack.
We usually have plenty of cookies around the farmhouse during the holidays. It just wouldn't seem like the holidays here if there weren't a few cookies cooling on the kitchen counter. But this year there have been even more than usual. I can't blame Santa for this one. Instead, there have been two other reasons why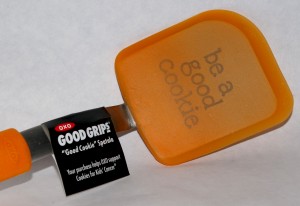 our cookie baking has been never-ending.
First, we were trying to promote OXO's Cookies for Kids' Cancer "Be a Good Cookie" campaign. We've been sharing our favorite cookie recipes and trying to "bake a difference".
The second reason we've been in such a cookie mood here is much simpler. Our first pair of goat kids left the farm right before Christmas to make their new home in Vermont. Since then, we've been bringing pounds of fresh milk into our farmhouse kitchen twice a day. Nothing goes better with a cookie than a fresh glass of milk. It seems only right to make sure that there are always homemade cookies to go with the glasses of fresh milk my children continue to request at every meal.
This week I felt the need to make a batch of chocolate chip meringue cookies. My family felt the need to remind me how delicious they are and proceed to attack the plate of cookies. I can't entirely blame them for the fact that there are only a handful left. I did help them a little. I mean, I needed something to go with my fresh glass of goat's milk.
Chocolate Chip Meringue Cookies
makes 6 dozen 1 inch cookies
These cookies have two requirements: a properly beaten meringue and a constant oven temperature. Both are easily achieved using a few simple steps. First, wipe your mixing bowl and beaters with a paper towel moistened with white vinegar before beating your egg whites. This will ensure that your bowl and beaters are free of any fat. Fat residue will jeopardize your ability to whip the meringue into stiff, glossy peaks. Secondly, if you have an oven thermometer, this is the perfect time to use it. Meringues need a low constant temperature to dry their batter without browning them. Preheat your oven and leave the door closed while the cookies bake. The end result will be a snowy white meringue that tastes as delicious as it looks.
4 large egg whites
1/4 teaspoon sea salt
1/4 teaspoon cream of tartar
1/2 teaspoon vanilla extract
3/4 cup (144 grams) granulated sugar
4 ounces bittersweet chocolate, chopped finely
Preheat the oven to 240 degrees Fahrenheit. Line three baking sheets with nonstick liners or parchment paper. Wipe the inside of a large mixing bowl with a paper towel moistened with white vinegar. Set bowl aside and wipe the surface of the beaters from a handheld or stand mixer.
Place egg whites in the prepared bowl with sea salt, cream of tartar, and vanilla extract. Beat on high until the mixture is transformed into soft, foamy peaks. Continue beating on high-speed while adding the sugar 2 Tablespoons at a time. Beat until the meringue is stiff but remains glossy in appearance, approximately 2-4 minutes. Using a spatula, gently fold in the chopped chocolate pieces until evenly distributed.
Meringues can be dropped by even teaspoons or piped using a piping bag without a tip (the chocolate pieces will prevent the meringue from piping correctly through a decorating tip). Drop or pipe all of the batter onto the prepared baking sheets.
Bake in a preheated oven for 60-90 minutes. If the cookies begin to brown, reduce the oven temperature by 25 degrees. When the meringue cookies are finished, they will have a dry exterior and lift away cleanly from the parchment paper. At this point, remove the baking sheets from the oven to a wire rack to cool completely. Store cool cookies in an airtight container at room temperature.
Our family lives and bakes around nut allergies, so our farmhouse kitchen is nut free. This recipe uses one of our nut free favorites: Vermont Nut Free Chocolates. You can learn all about them at www.vermontnutfree.com.
---
This post was featured in The 1840 Farm Community Newsletter. To make sure that you don't miss any of our original content or favorite recipes, DIY projects, and homesteading advice from around the web, subscribe to The 1840 Farm Community Newsletter. Visit our subscription form to become the newest member of The 1840 Farm Community.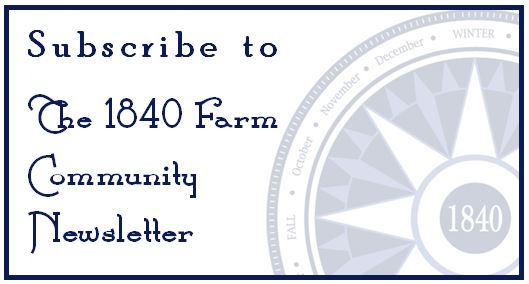 Our newsletter isn't the only way to follow what's happening here at 1840 Farm.
You're always welcome at 1840 Farm and at The 1840 Farm Mercantile Shop on Etsy.
You can also find 1840 Farm throughout the social media universe on
Facebook, Twitter, Pinterest, Instagram, Flickr, and Bloglovin'.
We even created a new 1840 Farm Community Newsletter Pinterest board to catalog
our newsletter content so that you could easily pin your favorites to your own boards.
Come add your voice to our conversation!
We'll hope to see you there!
---
Comments
comments