There's just something about a perfectly ripe peach.  It bears no resemblance to the variety that comes from the grocery store with mealy texture and bland flavor.  In fact, a peach at the peak of its season is not unlike my most beloved fruit, the tomato.  At their best, they are luscious and sweet with juice to spare.  I think that you get the point.  I love a great peach.
So, when peach season comes to New England, I go immediately to the local pick your own orchard.  I start dreaming up peach desserts before I've even left the driveway of 1840 Farm.  What to make first?  Pie is the easy answer followed closely by preserves.
So, after I had brought home a delicious batch of peaches I immediately made a peach raspberry pie using some of the raspberries from our year's harvest.  It was delicious.  Then, by request of Mr. 1840 Farm, I made a peach pie with a cinnamon crumble topping.  Delicious again.
Over the weekend, I made over 10 pints of peach raspberry preserves knowing full well that they would be just the mood lifter I'd need once winter had been keeping us indoors for several straight months.  I tasted the warm preserves and found that I was three for three when it came to peach concoctions.  I felt triumphant.  I knew that the peach season of 2011 would be remembered for fantastic fruit and the resulting delicious pies and preserves.  There are certainly worse ways for a summer to be remembered.
As the preserves cooled in their jars and the lids began to pop, I realized that I had a dilemma.  What was I going to do with the remaining peaches that were still sitting on my kitchen counter?  I peeled and sliced a few pounds to be frozen in case we felt inspired to make a peach pie later this fall.  Even after all of my baking, canning, and freezing, there were seven ripe peaches staring up at me.
While I was contemplating the best way to utilize these peaches, my son saved the day.  He reminded me that he had requested a batch of peach ice cream.  Finally, I had a way to use up our freshly picked peaches.  Unfortunately, I didn't have a recipe for peach ice cream.
We've made quite a collection of homemade ice creams this summer at 1840 Farm.  We've had vanilla bean, mint chocolate chip, honey vanilla, caramelized banana, and chocolate chocolate chip.  Now I had to take my experience with these flavors and create a recipe for peach ice cream that would please my five-year old.  It's a good thing that I enjoy a challenge.
I studied my existing recipes and took a stab in the dark as to how much honey would be enough to accentuate the peach flavor without covering it up.  I hoped that this recipe would deliver a smooth, creamy base with a rich peach flavor and a hint of honey.  It didn't disappoint.  As I sat in our kitchen enjoying the first scoop, I knew that there was only one problem with this delicious concoction.  I was going to have to hurry back to the orchard and pick more peaches before peach season was over.
Honeyed Peach Ice Cream
Peach Puree
1 1/2 pounds peaches
1/4 cup (84 grams) honey
1 Tablespoon vanilla extract
Honey Ice Cream Base
1 cup (8 ounces) whole milk
1 cup (8 ounces) heavy cream
2 Tablespoons (42 grams) honey
3 large egg yolks
1 Tablespoon (21 grams) honey
Peel and pit half of the peaches.  Chop the peaches and place them in a medium saucepan with 1/4 cup of honey.  Bring to a simmer over medium heat.  Reduce the heat to low and cover.  Cook approximately 5 to 7 minutes, stirring occasionally.  When peaches are softened, remove from heat and allow to cool uncovered.  When the peach mixture has cooled, place it in a blender and puree until smooth.  Add vanilla and blend to combine.
Combine milk, cream, and 2 Tablespoons of honey in a saucepan.  Warm over medium heat until bubbles begin to form on the surface.  Meanwhile, whisk egg yolks in a small bowl.  Temper the egg yolks by adding 1/4 cup of the warm cream mixture and whisking to combine thoroughly.  Gradually add the tempered egg yolk mixture to the pan and whisk to combine.  Cook over medium heat, stirring constantly, until the mixture coats the back of a spoon.  Remove the pan from heat and place mixture in the blender with the peach puree.  Puree until smooth, taking care to vent the blender and cover with a kitchen towel to prevent the hot mixture from erupting.  Pour the mixture into a bowl and chill at least 4 hours or overnight.
After the base has cooled, process it in your ice cream freezer according to the manufacturer's directions.  As the ice cream is processed, peel and pit the remaining peaches.  Finely dice the peaches and gradually add them to the base as it reaches the final stage of processing.  Remove the  completed ice cream from the machine and place it in a freezer safe container.  Drizzle 1 Tablespoon of honey over the frozen mixture and stir gently to incorporate.  Freeze until firm.
---
To make sure that you don't miss any of our original content or favorite recipes, DIY projects, and homesteading advice from around the web, subscribe to The 1840 Farm Community Newsletter. Visit our subscription form to become the newest member of The 1840 Farm Community.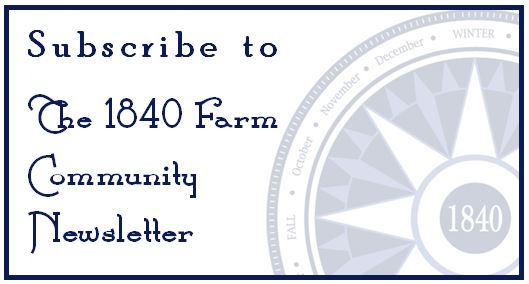 Our newsletter isn't the only way to follow what's happening here at 1840 Farm.
You're always welcome at 1840 Farm and at The 1840 Farm Mercantile Shop on Etsy.
You can also find 1840 Farm throughout the social media universe on
Facebook, Twitter, Pinterest, Flickr, and Bloglovin'.
We even created a new 1840 Farm Community Newsletter Pinterest board to catalog
our newsletter content so that you could easily pin your favorites to your own boards.
Come add your voice to our conversation!
We'll hope to see you there!
---
Comments
comments