How do you decide if a cookie made mostly with butter and sugar is a butter cookie or a sugar cookie?  Do you carefully weigh each component and decide based upon preponderance?  No, it's really much simpler than that.  Ask a five-year old.  The five year-old who lives at 1840 Farm didn't have any trouble deciding.  In fact, he hadn't even finished his first cookie before he had his final answer.
While I can make an argument in either direction for these cookies, my son cannot be moved from his firm stance that they belong in the butter cookie camp.  In fact, if I announce that I am making sugar cookies and he runs into the kitchen to taste them warm from the oven, he inevitably looks at me disapprovingly and says, "Are these the sugar cookies you said you were making?"
Don't get me wrong, he likes these cookies.  In fact, he will happily eat several before I have to cut him off.  Still, these cookies cannot be called sugar cookies in his world.  That designation is forever reserved for the traditionally sugar sprinkled, round cut out cookies made by his grandmother.  Believe me, I don't take it personally.
In the end, it really doesn't matter if you call these butter cookies or sugar cookies.  It only matters that you made cookies from scratch and that you share them with someone special.  The rest is up to interpretation.  That is, unless you're a five-year old.  In that case, the answer is apparently crystal clear.  Now if I can just convince my mother to make a batch of her sugar cookies.  If she doesn't share, I might take it personally.
1840 Farm Butter Cookies
makes 24 cookies
Here at 1840 Farm, these cookies are a staple.  They are incredibly flavorful and a great recipe to showcase just how delicious homemade vanilla extract can be.  As they bake, their aroma perfumes the air to the point of making it nearly impossible to wait for them to cool before trying one fresh out of the oven.
While I don't normally cut them out with a cookie cutter, you certainly could.  For me, these cookies are all about the taste and my family is happy to eat them in hand cut squares which saves me time and keeps the dough from becoming tough from successive rollings.  Because these cookies are basically a sable dough, they store incredibly well.  They stay crispy for several days at room temperature and the vanilla flavor improves as they age.
1 cup (2 sticks) butter
96 grams (1/2 cup)  sugar
1 Tablespoon vanilla extract
210 grams (1  3/4 cup) King Arthur White Whole Wheat Flour
1 teaspoon baking powder
1/4 teaspoon salt
Combine butter, sugar, and vanilla in the bowl of a food processor.  Process until the mixture is smooth and creamy. Add flour, baking powder, and salt and process using on and off turns until the mixture forms large crumbs.  Do not overmix as this will cause the gluten to develop and prevent the final cookie from having a delicate texture.
Empty dough onto a counter lined with food wrap, waxed paper, or parchment.  Bring dough together with your hands and roll to an even 1/4″ thickness.  Cover and refrigerate for 2 hours or freeze for 30 minutes.
Preheat oven to 350 degrees Fahrenheit.  If you have frozen the dough, remove it from the freezer and allow it to warm up for at least ten minutes before continuing.  Cut dough into desired shape and place cookies on lined baking sheets.  Bake for 10-14 minutes, or until the edges of the cookies are golden brown.  Remove from the oven and allow to cool on baking sheets for five minutes before moving to a wire rack to cool completely.
---
This post was featured in The 1840 Farm Community Newsletter. To make sure that you don't miss any of our original content or favorite recipes, DIY projects, and homesteading advice from around the web, subscribe to The 1840 Farm Community Newsletter. Visit our subscription form to become the newest member of The 1840 Farm Community.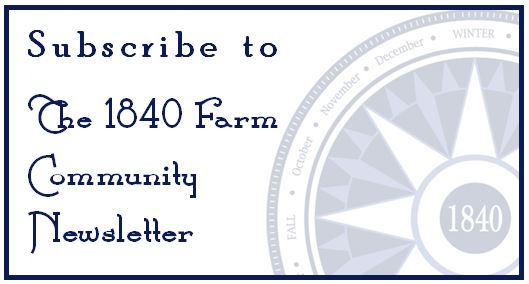 Our newsletter isn't the only way to follow what's happening here at 1840 Farm.
You're always welcome at 1840 Farm and at The 1840 Farm Mercantile Shop on Etsy.
You can also find 1840 Farm throughout the social media universe on
Facebook, Twitter, Pinterest, Instagram, Flickr, and Bloglovin'.
We even created a new 1840 Farm Community Newsletter Pinterest board to catalog
our newsletter content so that you could easily pin your favorites to your own boards.
Come add your voice to our conversation!
We'll hope to see you there!
---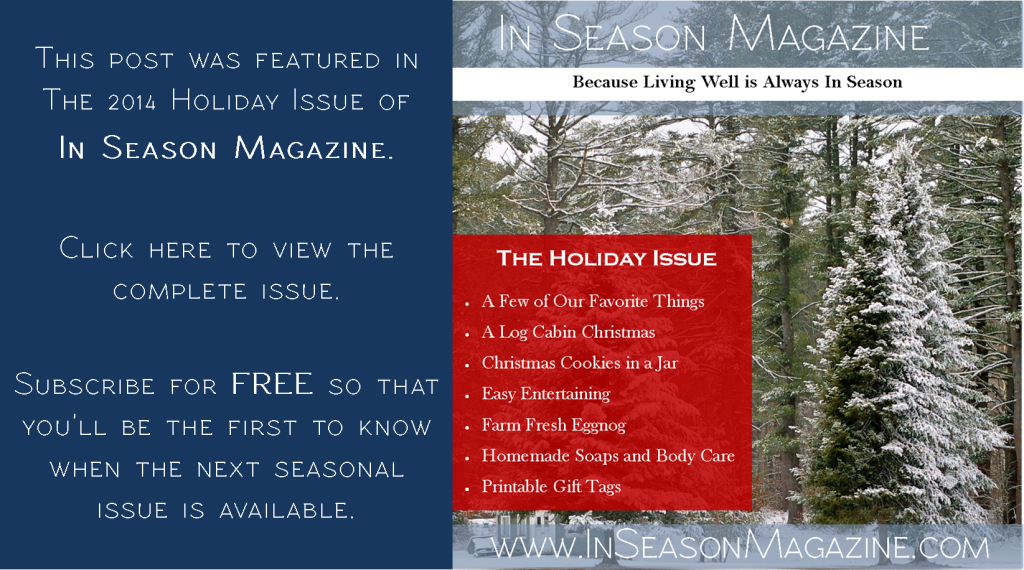 ---
Comments
comments