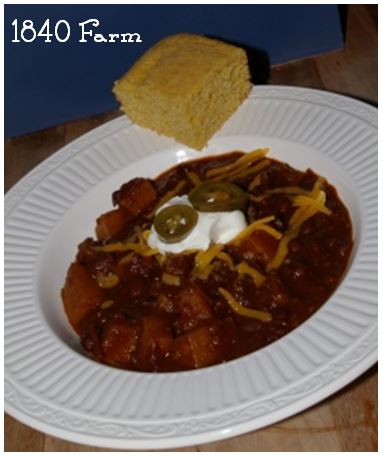 This winter has been unusually cold and snowy.  We've started to feel like it will never end.  Our beloved vegetable garden is buried deep in a snowy tomb making it hard to picture that we will ever be able to plant anything but icicles there anytime soon.  And by soon, I mean in the next six months.
I am a New Englander.  I expect winter to be long, but I don't have to like it.  I do, however, have to try to invent ways to help keep us warm, fed, and not quite so frustrated with the longest indoor season.  So, when my husband pointed out a new chili recipe in the February issue of Bon Appetit, I was all eyes.  After I read the recipe, I felt a pang of guilt as I considered cheating on our beloved 1840 Farm Chili, but desperate seasons sometimes call for desperate measures.
Then my husband had to raise the stakes a little further and point out a recipe in the January/February issue of Men's Health for a chili puree from Chef Tim Love.  Off I went to the pantry.  I was in luck.  I actually had all of the ingredients to make my own version of this recipe.  I also love a challenge, so figuring out a way to modify these recipes and use them together seemed like a good way to spend my morning.  Especially if it meant that there would be chili for dinner.
The chili I created differs in every way from our usual version.  First, it starts with a homemade chili puree instead of relying on dry seasonings added to the chili pot to give it a kick.  It includes only one type of bean instead of our usual four.  This chili also includes butternut squash, bulgur wheat, and coffee.  This chili takes hours to prepare as compared to the 60 minutes that our standby 1840 Farm Chili with Sweet Corn Masa requires.  At the end of the day, maybe I need to rename one of these recipes.  Calling them both "chili" seems a little confusing after pointing out just how different they are.
You may be asking yourself, "What kind of chili is this?"  Reader, I will tell you simply that it is chili of the delicious variety.  It has a depth of flavor that amazed me.  The chipotle chilies with coffee and spices yield an incredibly smoky, complex flavor.  This is not your typical spicy one note chili.  This one is a chili opera.
You may think that I am over exaggerating here, but I can assure you that I am not.  Go ahead, try it for yourself and tell me that I'm wrong.  Just don't expect me to respond right away.  I'll be too busy eating my chili.

Smoky Chili Puree
adapted from Real Texas-Style Chili by Tim Love
published in the January/February 2011 issue of Men's Health

Tim Love's original recipe  calls for dried chilies.  Since I didn't have them on hand, I substituted chipotle chilies in adobo which I always have in my pantry.  I also added instant espresso powder to the mix to give the coffee flavor a boost.
8 ounces brewed coffee
3 chipotle chilies in adobo
4 Tablespoon chili powder
1 Tablespoon ground cinnamon
1 Tablespoon instant espresso powder
Place all ingredients in a blender or food processor.  Puree until smooth.  Set aside.
Smoky Black Bean Chili with Butternut Squash or Pumpkin
serves 12
adapted from Black Bean Chili with Butternut Squash
published in the February 2011 issue of Bon Appetit
While the original recipe calls for butternut squash, I find that pumpkin adds a more earthy, slightly sweet flavor.  After Thanksgiving has passed, the pumpkins that decorate the farmhouse throughout the fall are peeled and diced so that we can freeze the pumpkin and use it all winter long in this chili.  Don't worry, we don't let the seeds go to waste.  We roast some for snacking and share some of them raw with our heritage breed hens.

2 Tablespoons olive oil
2 large onions, chopped
8 cloves garlic, minced
1 recipe smoky chili puree
56 ounces diced/chopped tomatoes
1 pound dry black beans, rinsed
2 teaspoons dried oregano
10 cups water
2 pounds butternut squash or pumpkin, peeled and cubed
1/2 cup bulgur wheat
cheddar cheese
sour cream
pickled jalapeno pepper slices
In large stockpot, heat olive oil over medium heat.  Add onions and saute for 8 to 10 minutes until translucent.  Add garlic and cook 1-2 minutes until fragrant, stirring constantly.  Add chili paste and stir to combine.  Add tomatoes, beans, oregano, and water and stir to combine.  Bring to a boil.  Reduce heat and simmer with pot lid slightly ajar for 2 hours or until beans are tender.
Add butternut squash and bulgur wheat.  Return mixture to a simmer and cook without lid for 30-45 minutes until squash is tender.  Season to taste with salt and black pepper.  Garnish with cheese, sour cream, and jalapeno and serve.
1840 Farm Cornbread
This recipe couldn't be any simpler to make.  You can have it mixed and in the oven in under five minutes.  While not an overly sweet cornbread, the vanilla extract gives the bread a lovely flavor.  It makes a wonderful accompaniment to the Smoky Black Bean Chili.  I use our own freshly ground cornmeal and organic, non-GMO home milled whole wheat flour in this recipe.  You can substitute a good quality yellow cornmeal and King Arthur White Whole Wheat Flour if you prefer.

1 cup whole wheat flour
1 cup cornmeal
1/2 cup sugar
1 teaspoon salt
1 Tablespoon plus 1/2 teaspoon baking powder
1 egg
1 cup skim milk
2 1/2 ounces butter or margarine, melted
1 Tablespoon vanilla extract
Preheat oven to 400 degrees.  Line a 9 x 9 pan with parchment paper and set aside.
Combine dry ingredients in a medium bowl and set aside.  Combine liquid ingredients with egg in bowl and beat with whisk until smooth.  Add liquid mixture to dry ingredients and stir with spatula until just combined.
Pour batter into prepared pan.  Bake for 20-25 minutes or until a toothpick inserted into the middle of the cornbread comes out clean.  Cool on wire rack.  Serve warm.
---
This post was featured in The 1840 Farm Community Newsletter. To make sure that you don't miss any of our original content or favorite recipes, DIY projects, and homesteading advice from around the web, subscribe to The 1840 Farm Community Newsletter. Visit our subscription form to become the newest member of The 1840 Farm Community.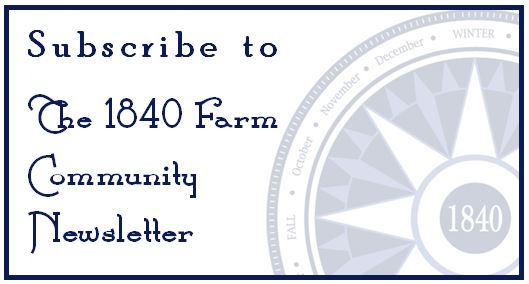 Our newsletter isn't the only way to follow what's happening here at 1840 Farm.
You're always welcome at 1840 Farm and at The 1840 Farm Mercantile Shop on Etsy.
You can also find 1840 Farm throughout the social media universe on
Facebook, Twitter, Pinterest, Instagram, Flickr, and Bloglovin'.
We even created a new 1840 Farm Community Newsletter Pinterest board to catalog
our newsletter content so that you could easily pin your favorites to your own boards.
Come add your voice to our conversation!
We'll hope to see you there!
---
This post was shared on the:
Comments
comments