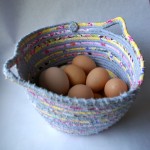 1840 Farm Coiled Fabric Basket Collection
Each Basket is handmade using a combination of new and repurposed fabric from charitable thrift shops. To learn more, view the description of our basket collection.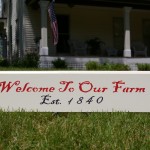 Hand Painted Wooden Signs
We're proud of our farm and love to welcome visitors.  These signs welcome visitors to our farmhouse, chicken coop, and garden.  Each sign is cut, painted, and finished by hand.
1840 Farmhouse Aprons
At 1840 Farm, we love to repurpose material almost as much as we love to spend time together cooking in our farmhouse kitchen.  This item combines the two activities beautifully.  These aprons are constructed entirely from repurposed dress shirts purchased from charitable thrift stores.
The design of our farmhouse apron takes advantage of the best a dress shirt has to offer, incorporating the original shirt's style.  Everything from shirt pockets to buttons and their corresponding buttonholes makes an appearance in the finished apron.  Fabrics from several shirts are combined in a complementary fashion to create the final apron.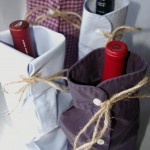 Wine Sleeves
A bottle of wine is a welcome sight at 1840 Farm.  I love to give a bottle of wine as a gift almost as much as I love receiving one.  When giving a great bottle as a gift, I struggled to find a gift bag that was up to the task.  A simple paper bag always seemed inadequate in both style and substance.
What I needed was a sleeve for the bottle that added a little whimsy without completely camouflaging the bottle inside.  Luckily, I happen to have a steady supply of shirt sleeves left over from making our 1840 Farmhouse Aprons.  Viola-a literal wine sleeve perfect for use as a gift bag or to house a bottle of wine at the family table, catching any errant drips as the wine is served.